Liveaboard Information
Cabins: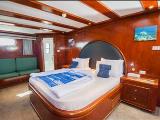 King Suits x 3 (20 sq meters)
Max occupancy: 2
Details
Beds: King
In suite bathroom: Yes
AC: Window Unit
TV: No
Description:
Honeymooners and couple will love the 3 Master Suite available. Indeed, those suites are an added touch of space and luxury, complimenting a special liveaboard journey. All the same amenities apply in a great and more spacious set up with a personal flat screen TV and complete streaming media library.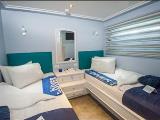 Twin Cabins x 9 (12 sq meters)
Max occupancy: 2
Details
Compressors Generators Cruising Speed

Accomodate Rebreathers YES
Additional Notes
About Us
Built in 2005, M/Y blue Fin is the first in the blue o two fleet and with her understated luxury and unique layout remains a very popular choice. M/Y blue Fin is a traditional style liveaboard vessel in many ways, but also has some unique twists that keep her standing out from the crowd! Three huge king suites dominate the bow on the lower and middle decks, spreading the whole width of the vessel.
All king suites on board this stunning Red Sea liveaboard benefit from a large double bed, ensuite facilities, air conditioning, mini refrigerators and personal entertainment systems with large plasma screen. The king suites are the perfect private retreat for honeymooners or couples simply looking for a little extra space and luxury.
All other cabins are twins and are located on the lower deck. All benefit from ensuite facilities, air conditioning, mini refrigerators and personal entertainment systems. M/Y blue Fin is equipped with a nitrox membrane, booster pump and can also cater for rebreather divers. For more information, images and a schedule for M/Y blue Fin, please see the tabs above. You might find some more useful information on our
Certifications

PADI

Open Water Diver or equal rating, snorkel with no certification

PADI

Open Water Diver, or equal rating

PADI

Open Water Diver or equal rating

PADI

Open Water Diver, or equal rating

PADI

Open Water Diver, or equal rating

PADI

PADI Open Water Diver

PADI

Open Water Diver, or equal rating

PADI

Open Water Diver, or equal rating

PADI

Open Water Diver or equal rating

PADI

Adventure Diver, or equal rating

PADI

Adventure Diver, or equal rating

PADI

Open Water Diver, or equal rating

PADI

Advanced Open Water Diver, equal rating, Open Water Diver with PADI Underwater Navigator

PADI

any scuba certification, corequisite, or be enrolled in a scuba certification course