Liveaboard Information
Cabins: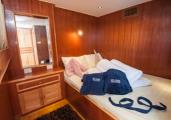 Double Cabins x 2 (9 sq meters)
Max occupancy: 2
Details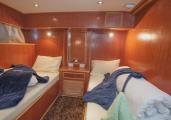 Twin Cabins x 8 (9 sq meters)
Max occupancy: 2
Details
Beds: Twin x 2
In suite bathroom: Yes
AC: Window Unit
TV: No
Description:
These cabins are located in the lower and upper deck, they all have A/C, en-suite (WC/shower), let us know if you have any preference, the ones in upper deck have great light and the ones in lower deck are very quiet, all are great cabins to rest after dives. 6 lower deck cabin with side by side beds, 2 upper with side by side beds. Upper deck cabins (standards price + 10% supplement)
Additional Notes
About
Our Red Sea diving safari boat M/Y Amelia measures 32m, is built in wood and, as with all of our liveaboards, was designed with the diver in mind. The 10 double cabins comfortably accommodate 20 guests. All cabins have A/C and en-suite bathrooms (WC/shower), towels and bathrobes. The spacious salon, which has a separate dining and lounge area with bar, offers A/C, DVD/TV and a music system.
There are 2 spacious sun decks, one with bar and shaded area with table and chairs, one with mattresses for sun bathing. There is ample room for all guests to relax and enjoy their time between dives.