Liveaboard Information
Cabins: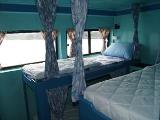 Quad Cabin x 2 (0 sq meters)
Max occupancy: 4
Details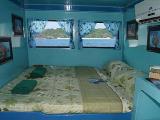 Double Cabins x 2 (0 sq meters)
Max occupancy: 2
Details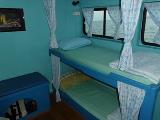 Twin Cabins x 4 (0 sq meters)
Max occupancy: 2
Details
Additional Notes
About
The 25m MV Similan Explorer is a great option to explore the underwater beauty of the Similan Islands, Thailand. Dive with manta rays at Koh Bon, whale sharks at Richelieu Rock and beautiful reefs at the Surin Islands. Walk on pristine beaches and trek into the jungle as the M/V Similan Explorer takes you on 2 or 3 night adventures to the Similan Islands of the Andaman Sea. The experienced dive guides are more than happy to take requests to find special critters such as seahorses, pipefish and nudibranchs.
Topside, the MV Similan Explorer dive liveaboard has 8 cabins catering to 18 guests. Four twin bunk cabins and two quad cabins can be found on the main deck, while the upper deck has 2 double cabins. All cabins have AC, sea-view windows and shared bathrooms. Hungry divers will be taken care of as freshly prepared food is served throughout the day, meals vary between local Thai cuisine and international dishes, and vegetarians can be catered to on request. For relaxation guests can choose the lounge & dining area with TV and DVD player, or up on the sun deck which is also a great place to take in the stunning views and keep and eye out for manta rays, whale sharks and playful dolphins.
The M/V Similan Explorer is a great way to explore the Similan Islands. Call us or book online today to reserve your space.
#1 of 13 Tours in Khuk Khak
TripAdvisor Traveler Rating
Based on 532 Reviews
Amazing The experience overall amazing, the staff insanely great, and facilities outstanding. These guys are best in class and leaders in adventure diving Reviewed 5/5/2021

Read Full Review

The best in the Similans. Period. If you're ever around this part of Thailand and wondering what's the best way to experience the beauty of Similan and Surin islands, look no further! My wife and I went on a liveaboard experience... Reviewed 4/15/2021

Read Full Review

The best 5 days of 2021!!! The best 5 days of 2021!!! A massive thank you to all of the amazing crew on the Dolphin Queen! Amazing dives, amazing service, amazing vibe. Can't wait to get back! Reviewed 2/23/2021

Read Full Review
Read All Reviews
© TripAdvisor 2021 Traveler Reviews