Liveaboard Information
Cabins: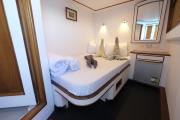 Double Cabins x 2 (7.5 sq meters)
Max occupancy: 2
Details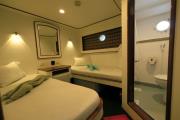 Twin Cabins x 10 (7.5 sq meters)
Max occupancy: 2
Details
Transportation to & from the nearest Hotel or Port YES

Included

Dive Certifying Bodies we are affiliated or certified by

PADI

Compressors Generators Cruising Speed

Accomodate Rebreathers YES
Additional Notes
About
Mv Nouran is the newest vessel in our RSE fleet. She is one of the finest livaboards in her class. Catering to 24 guests in 12 guest rooms. Specially designed to meet the needs and comfort of the divers of today. She offers a spacious air-conditioned lounge, an independent dining area and outdoor relaxation areas offering plenty of space to find your own place as you cruise the Red Sea in style and comfort.
Certifications

PADI

Open Water Diver or equal rating

PADI

Open Water Diver, or equal rating

PADI

Open Water Diver, or equal rating

PADI

Adventure Diver, or equal rating

PADI

Open Water Diver, or equal rating

PADI

Open Water Diver (or equal rating) + Rescue Diver (or equal rating) + EFR Primary and Secondary Care (or equal rating) within past 24 months + medical statement signed by physician

PADI

PADI Open Water Scuba Instructor + 5 PADI Specialty Instructor ratings + have certified minimum 25 PADI Divers