Liveaboard Information
Cabins: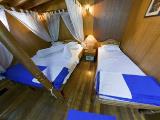 Standard Double/Twin Cabins x 5 (0 sq meters)
Max occupancy: 3
Details
Beds: Double + single
In suite bathroom: No
AC: No
TV: No
Description:
All cabins are furnished with bathroom with shower (soap and shower gel available – hairdryers on request) and independent air-conditioner system. Cabins on lower deck are equipped with portholes, while the cabin on upper deck has large panoramic windows (can't be opened). Some cabins have a double bed plus a single bed.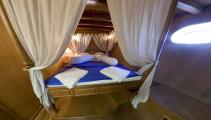 Standard Double Cabins x 3 (0 sq meters)
Max occupancy: 2
Details
Additional Notes
About the Boat
The 30m Moonima liveaboard offers world-class diving trips in the Maldives. Having recently undergone a complete renovation in 2015 with the highest standards in service and safety, the Moonima Liveaboard offers a cozy and pleasant atmosphere. There are 8 cabins on board, each with en-suite bathroom and individually controlled AC, to cater to a maximum of 16 guests.
Facilities on-board include an indoor air-conditioned lounge on the main deck with bar, comfortable sofas, chairs and tables, TV/DVD/CD, hi-fi stereo and a selection of books and board games. On the second deck is a panoramic lounge area with corner bar, where a selection of drinks, beers, wines and international liquors will be served. There are also two sun-decks with sunbeds and shaded area, and a lounge area at the prow of the boat.
Diving takes place from the dedicated dive Dhoni, ensuring plenty of space for gear storage and setup. From the Moonima Liveaboard divers will get the chance to explore the beautiful Maldivian waters, with trips to the Central Atolls, and even some unexplored Northern routes. Trips are planned carefully with the Cruise Director once you are on-board to make sure you get the most out of your diving holiday.