Liveaboard Information
Cabins: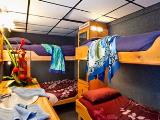 Quad Stateroom x 1 (119 sq feet)
Max occupancy: 4
Details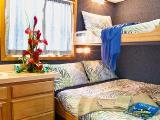 Deluxe Cabins x 5 (78 sq feet)
Max occupancy: 2
Details
Dive Certifying Bodies we are affiliated or certified by

PADI , Dive Shops, Dive Resorts, Dive Boats and Recreational Facilities

Compressors Generators Cruising Speed
Additional Notes
About Us
The Kona Aggressor II is a 14 passenger catamaran offering a week of hassle free diving along the western coast of Hawaii where 20% of the reefs and fish seen cannot be found anywhere else in the world. She departs every Saturday from Kailua-Kona providing guests with many amazing sites to dive whist cruising in pure comfort and relaxation.
The 6 crew members aboard are experienced and friendly and are there to help you with any questions or queries you may have regarding the week's itinerary. The 1 quad and 5 deluxe cabins are located on the main deck just off the salon. All cabins have en-suites, double bed with single bed above, air conditioning and a large window to take in the breath taking views. The air conditioned salon is furnished and designed for comfort and relaxation due to its big sofas and entertainment system suiting every guest's needs.
The sun deck is partially shaded offering guests a sun bathing area complete with deck chairs, chaise lounges, wet bar with a drink dispenser and a hot tub, the perfect place for guests to relax after a long day. The Kona Aggressor has a large dive deck where each diver has their own personal dive station complete with a seat and a locker. All tanks are in place and filled with either air or nitrox depending on the diver's request with several dozens of 80 cubic foot cylinders aboard.
A camera table with low pressure hoses, rinse tank, head and water fountain and a dive briefing area is also located on the spacious dive deck. Ladders lead down from the dive deck to the dive platform where 2 freshwater showers and fin racks are located making it convenient for divers.
Certifications

PADI

Open Water Diver or equal rating, snorkel with no certification

PADI

Open Water Diver or equal rating

PADI

Open Water Diver, or equal rating

PADI

Open Water Diver, or equal rating

PADI

Adventure Diver, or equal rating

PADI

Adventure Diver, or equal rating

PADI

Open Water Diver, or equal rating

PADI

Open Water Diver (or equal rating) + Rescue Diver (or equal rating) + EFR Primary and Secondary Care (or equal rating) within past 24 months + medical statement signed by physician
Equipment

| Equipment category | rent | Sell | brand (Model) |
| --- | --- | --- | --- |
| Rebreathers | YES | NO | |
| Rebreathers | YES | NO | |
| Rebreathers, Full-systems | YES | NO | |
| Regulators, First-stage only | YES | NO | |
| Buoyancy Compensators, Jacket-style | YES | NO | |
| Fins, Open-heel | YES | NO | |
| Diving Suits, Wet | YES | NO | |
| Lights, Hand-held | YES | NO | |
| Computers, Integrated | YES | NO | |