Liveaboard Information
Cabins: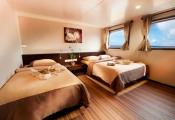 (COMBINED DOUBLE/TWIN) CABIN x 2 (20 sq meters)
Max occupancy: 3
Details
Beds: Double + Single
In suite bathroom: Yes
AC: Window Unit
TV: No
Description:
A beautifully furnished en-suite and air-conditioned cabin on the main deck with 1 double and 1 twin bed (price for this cabin is based on 2 people sharing, but a third person can also be added upon request at extra cost)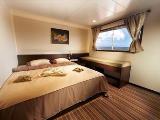 Double Cabins x 4 (12 sq meters)
Max occupancy: 2
Details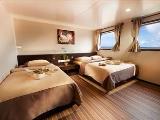 Twin Cabins x 8 (10 sq meters)
Max occupancy: 2
Details
Dive Certifying Bodies we are affiliated or certified by

PADI , Dive Shops, Dive Resorts, Dive Boats and Recreational Facilities

Compressors Generators Cruising Speed
Additional Notes
About Us
The Blue Manta is possibly the largest purpose-built BKI CLASS dive vessel in the region. Measuring 45m (148 ft) by 9m (29ft), this steel hull vessel will only take 18-22 guests. The 14 beautifully furnished en-suite cabins, each average 20sqm (200sf) in size, an open outdoor alfresco dining area, an indoor air-conditioned room for finer dining, speaks of the perfect onboard ambiance of a luxurious dive holiday.
With maximum comfort and safety in mind, the Blue Manta is well equipped with safety facilities, cruises at 10 knots and the steel hull makes her an ideal vessel for long haul cruises and blue water crossing trips. 
Certifications

PADI

Open Water Diver or equal rating

PADI

Open Water Diver, or equal rating

PADI

Adventure Diver (or equal rating) + CPR & First Aid trained within past 2 years

PADI

Open Water Diver (or equal rating) + Rescue Diver (or equal rating) + EFR Primary and Secondary Care (or equal rating) within past 24 months + medical statement signed by physician