Liveaboard Information
Cabins: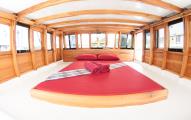 Double Cabins x 1 (3 sq meters)
Max occupancy: 2
Details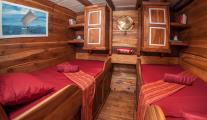 Twin Cabins x 3 (3.5 sq meters)
Max occupancy: 6
Details
Transportation to & from the nearest Hotel or Port NO

Compressors Generators Cruising Speed
Additional Notes
There is undoubtedly no better way to cruise the Indonesian Archipelago.  The Classic beauty of the wooden sailing boat, combines traditional ambiance with all the modern conveniences and safety features.  The most impressive fleet of wooden sailing vessels are the so called Bugis Prahus of Indonesia, commonly known as the Pinisi Schooner...
These antique looking sailing boats have been built for centuries on isolated beaches by local people working with oral tradition without any drawings or plans, according to some sources since prior to the 1500's...
The best way to explore the beauty within the Ring of Fire is by liveaboard.  It is the ultimate combination of world class liquid adventures and jurassic park style escapades that feature smoking volcanoes, tropical islands, komodo dragons, dolphins cruising along side, spectacular sunsets and tranquil star filled nights...