Liveaboard Information
Cabins: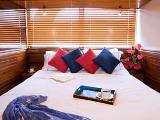 Master Stateroom x 4 (80 sq feet)
Max occupancy: 2
Details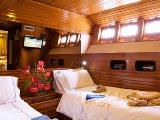 Deluxe Stateroom x 4 (80 sq feet)
Max occupancy: 2
Details
Transportation to & from the nearest Hotel or Port NO

Dive Certifying Bodies we are affiliated or certified by

PADI , Dive Shops, Dive Resorts, Dive Boats and Recreational Facilities

Compressors Generators Cruising Speed
Additional Notes
About Us
Welcome to Galapagos Islands, Galapagos is one of the most exciting destinations in the world. Guests will have the opportunity to dive with playful Sea Lions, travel to the famous Darwin and Wolf for thrilling diving to see Hammerhead Sharks, Whale Sharks, clouds of Tuna and much more. The scenic view of the Darwin Arch is as picturesque as you can imagine. The Galapagos Aggressor departs from Baltra every Thursday afternoon and are the perfect platform for a Galapagos diving holiday that you will remember for a lifetime.
Our goal is to provide you with the ultimate Galapagos Live Aboard diving experience. The Galapagos Aggressor offers a brand new itinerary in compliance with the Galapagos National Park regulations which requires companies with permits to follow the exact itinerary below. A maximum of four dives will be offered daily; two in the morning and two in the afternoon. In addition, two night dives and two land excursions per week will be offered.
The new diving areas added to the itinerary are: Bartolome Punta, Cousins Rock and Cabo Douglas. The Galapagos National Park grants approval for normal itineraries and accepts requests for special itineraries. Each with 2 single beds side by side that can be made into a queen bed, (upon request) private head and shower, closet, port window, individual climate control and hair dryer.Each with two lower single beds (side by side) with private head and shower, individual climate control and TV/DVD.
Certifications

PADI

Open Water Diver or equal rating, snorkel with no certification

PADI

Open Water Diver or equal rating

PADI

Open Water Diver, or equal rating

PADI

Open Water Diver, or equal rating

PADI

Adventure Diver, or equal rating

PADI

Adventure Diver, or equal rating

PADI

Open Water Diver, or equal rating

PADI

Open Water Diver (or equal rating) + Rescue Diver (or equal rating) + EFR Primary and Secondary Care (or equal rating) within past 24 months + medical statement signed by physician
Equipment

| Equipment category | rent | Sell | brand (Model) |
| --- | --- | --- | --- |
| Rebreathers | YES | NO | |
| Rebreathers | YES | NO | |
| Rebreathers, Accessories | YES | NO | |
| Regulators, First-stage only | YES | NO | |
| Buoyancy Compensators, Jacket-style | YES | NO | |
| Fins, Open-heel | YES | NO | |
| Diving Suits, Wet | YES | NO | |
| Lights, Hand-held | YES | NO | |
| Computers, Integrated | YES | NO | |