Liveaboard Information
Cabins: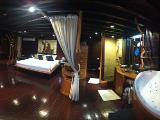 Master Cabins x 1 (46 sq meters)
Max occupancy: 2
Details
Beds: Double
In suite bathroom: Yes
AC: Window Unit
TV: No
Description:
Main Deck - This "one of a kind" suite features a king size bed with bedside tables and reading lights and the stunning en-suite bathroom has a shower as well as a jacuzzi bath with ocean views. The suite has its own lounging area; a large corner sofa with huge table constructed entirely from one piece of naturally shaped teak.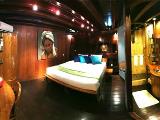 Double Cabins x 8 (20 sq meters)
Max occupancy: 2
Details
Transportation to & from the nearest Hotel or Port NO

Compressors Generators Cruising Speed

Accomodate Rebreathers NO
Additional Notes
About 
While live-aboard diving cruises concentrate on the discovery of the underwater world and leisure expeditions are geared towards the exploration of the diverse cultures and the natural beauty of the many islands in the archipelago, we have a long experience in combining the two and can design itineraries for special interest groups that cater both to divers and non-divers. Just to name 3 examples: Bird watching and jungle trekking.
Some areas are very remote and can't be visited by any other means of transport than a ship! no better a to discover and explore the pristine nature that Indonesia has to offer! Besides it stunning natural beauty Indonesia is also famous for diverse cultures and creativity. The wonderful "ikats" (colorful hand woven fabric) are famous with collectors all over the world. We can take you to the islands, the villages and so you can witness how local people in Flores, Alor, Timor, Rote, Savu and Sumba still produce these works of art in the same way as their forefathers did… We can also take you as far as the Asmat in Irian Jaya, a culture until a few decades ago still cut of from western civilization.