Liveaboard Information
Cabins: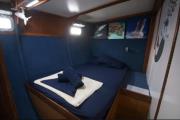 PRIVATE CABIN x 3 (0 sq meters)
Max occupancy: 2
Details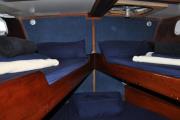 BUNKS CABIN x 1 (6 sq meters)
Max occupancy: 2
Details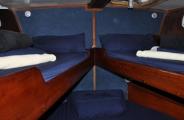 QUAD BUNKS CABIN x 1 (8 sq meters)
Max occupancy: 2
Details
Dive Certifying Bodies we are affiliated or certified by

PADI , Dive Shops, Dive Resorts, Dive Boats and Recreational Facilities

Compressors
Additional Notes
About
Coral Sea Dreaming is a strongly built 16 metre steel yacht, uniquely designed to travel to the Great Barrier Reef in all kinds of weather. Her rugged build provides a safe platform to sail, dive and snorkel. She carries all the latest navigational aids. CSD sleeps 12 passengers and 3 crew in bunk-style accommodation. Sleeping options available including private cabins, single bunks, and a quad share.
Please note that sleeping arrangements are fairly basic due to the boats size, and do not include storage space. Thus passengers are asked to bring only an overnight pack on-board. Backpacks and suitcases can be stored in our office. The vessel is in current 2B survey with a 200 mile offshore range.