Liveaboard Information
Cabins: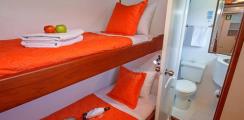 Double Cabins x 8 (0 sq meters)
Max occupancy: 2
Details
Beds: bunk
In suite bathroom: Yes
AC: Window Unit
TV: No
Description:
Each cabin offers:
1. Air conditioning
2. Shower with hot water, toilet and air condition
3. Amenities and towels
4. Windows in the cabins on maindeck and upper deck. Bull eyes in lower deck
5. Reading lamps
6. Closets
7. Smoke alarm and alarm system
8. Fire extinguisher and life vests
9. Electricity outlets with 110V
Transportation to & from the nearest Hotel or Port NO

Compressors Generators Cruising Speed
Additional Notes
About Us
The name Astrea goes back to Greek mythology. Astrea was the daughter of Zeus and Themis. She exists as the constellation Virgo, and is known as the goddess of innocence and purity. Astrea maintained her purity even after wars and under the protection of Zeus, Astrea watches over us from the starry sky. Galextur was inspired by this myth, and Silberstein believes in enforcing a "green initiative" and "pro-ocean life".
We believe in efforts to save our planet as well as an initiative to save our oceans. We care about the planet and stand behind the "purity and innocence" represented by the animals and plant life. Sustainable diving tours and eco-tourism, are soon to exist across all of our brands. This ties into all our combined tourism efforts, while respecting the rules of the Marine Reserve Conservation and the Galapagos National Park.
Through our Naturalist and Diving Cruise, Astrea gives a unique and unforgettable experience, along with the best quality service as always, which are characterized in all of our products.