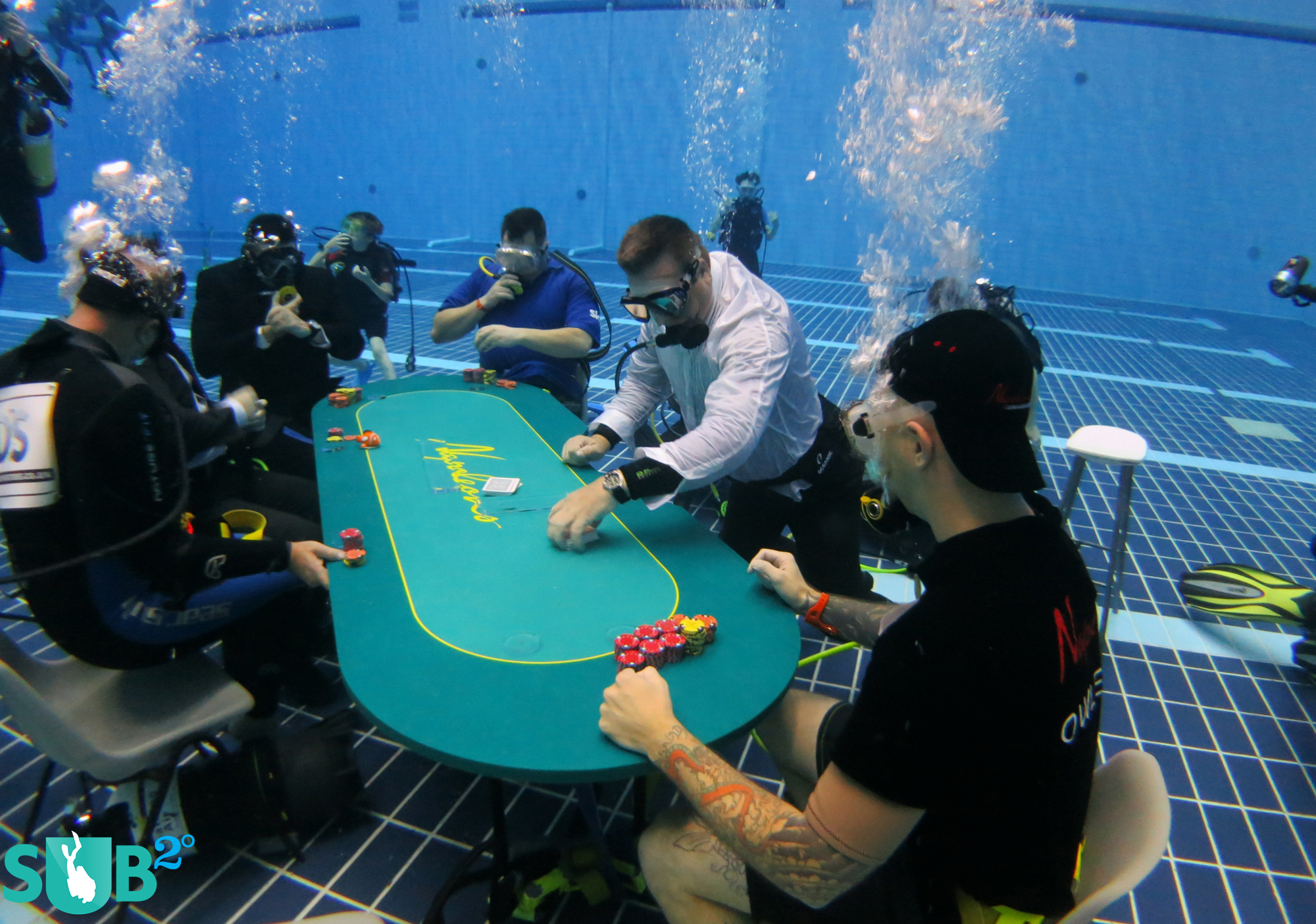 Published Jan. 17,
2014
0
Underwater Poker Dives
There have been many venues for poker tournaments—global competitions like the World Series of Poker and the World Poker Tour make sure that there are exciting as well as exotic locations, where the card game takes center stage. However, no place is as inviting or as intriguing as water, so this was explored via the game through underwater poker. This concept is not entirely novel; in fact, the Huffington Post recovered a photo from the 50s featuring an underwater poker game taken in Weeki Wachee Springs, Florida. In the picture, however, the players were literally holding their breaths without diving gear, so we can just imagine the added pressure.
Divers are becoming more diverse when it comes to their passion, and one of the ways to maximize their potential is by exploring their limits through underwater challenges. In August last year, scuba diver John Stanley (who is also a poker enthusiast) got together with five other divers in the UK's Ponds Forge International Sports Centre for an underwater poker dive competition. Online magazine Poker.co.uk reported that the event had the purpose of raising money for the Macmillan Cancer Support, and was organized by Stanley who has been personally affected by the disease; his wife, father, and grandfather were all diagnosed with cancer, so he feels passionately about this endeavor. The event was sponsored by Diveworld and Napoleon's Casino.
As of now, only a handful of casinos are sponsoring this type of competition, probably due to a shortage of would-be participants. Ideally, only certified divers will be allowed to play. Major online brands have yet to join the fray, but the possibility should not be discounted—after all, if Party Poker has previously conceptualized an indoor skydiving tournament when it sponsored the WPT Prague, an underwater poker dive might be next on their agenda as a marketing strategy.
The UK is not the only country which has enjoyed this rather, unorthodox event; Canada held a World Series of Underwater Poker to celebrate Canada Day last year. The rules were slightly different—the player will dive to pick up poker chips, which will later be turned in for playing cards. Of course, the best hand wins. In the US, Missouri's Children's Miracle Network Hospitals of CoxHealth has an annual underwater poker tournament (including a Go Fish table) which has been going on for six years now. Proceeds raised during these events are for the benefit of the hospital.
Featured Posts
Before going on a shark adventure, there are some things you need to know to make it a great experience for you and the sharks!

Lost your mojo? Get back into the water and re-awaken your lust for scuba diving! From discovering new dive sites to meeting new dive buddies, shake the dust off those fins and get wet again.

When the sun goes down the diving doesn't have to stop. Here are some tips on diving after dark and what you might see when some of the reef has gone to sleep.