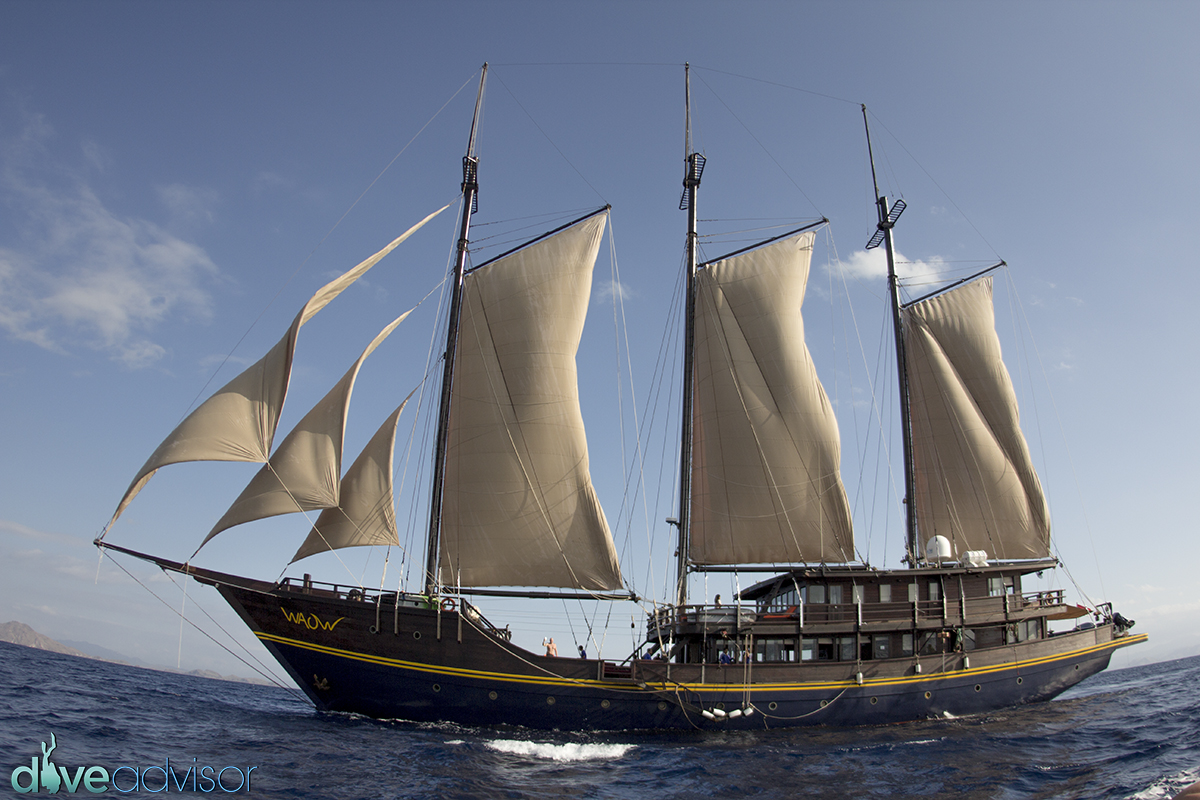 Published Dec. 13,
2014
0
10 signs of a good liveaboard
A liveaboard is more than a dive boat.
Sure, for some divers a place to sleep, a cold beer in the evenings and a filled up tank in the morning is all they need, but those are the people who usually don't have any real money to spend.
There is a huge segment of luxury travellers, who are used to living in 5 star hotels and flying business class. They are willing to pay for quality service, but they don't always get it.
From my experience the people that are willing to spend little are already catered to, its the ones that want luxury that aren't.
I have been lucky to be on some fantastic boats, like the WAOW, ScubaSpa and Orion who really get the concept of luxury service.
Here are 10 factors, BESIDES the diving that make a great liveaboard experience.
#1: Quality Rooms
Basically, a liveaboard is a hotel on water, and thus the room is an important part of the equation.
In most places, the most critical thing is the air conditioning. If you are on a liveaboard in the Maldives for example, and don't have A/C you will find it rather unpleasant to sleep at night.
Besides the A/C – the common things like room tidiness, quality of the furniture and arrangement of the room are very important.
There is a lot that matters within the room, such as the presence of window to air out the room, a proper mattress, a comfortable size bed and a generally ergonomic layout.
#2: Sound Isolation
A common issue is the extremely thin walls. To a lot of people this can be a serious problem since a liveaboard can be a rather noisy place, with people walking around, talking, drinking.
This can cause irritation and possibly lack of sleep.
Lack of sleep and a 6 AM wake up call followed by 4 dives a day for a week can turn even the most amazing diving into a week from hell.
On my trip in Indonesia, I was really impressed with the sound isolation on WAOW - they had really thick wooden walls and there was real silence in the rooms, without the constant thud of footsteps above, the sound of the engine or a sound of snoring from the adjacent room.
#3: Internet
Everyone takes the 'disconnected is better' road, but there are times when you really need to check your mail, especially if you are self-employed. Liveaboards that invested in good internet functionality onboard, which can be rather tricky – definitely make the overall experience a touch better.
Tip: MOST of the operators, even the good ones simply have a local sim card with a GPRS or a 3G plan on it which is linked upto a router that makes a hotspot.
Just buy a sim card at the airport (usually free) and throw on a data plan. In most countries this will cost no more than 20-25$ for a Gig of traffic or more. As a result, you will have your own connection, not shared amongst the whole boat.
#4: Food Quality
Unlike with a hotel, you can't 'go to town' to eat – you are forced to eat the food served by the liveaboard kitchen. The food therefore is super important, it can really make or break a trip. If you are constantly experiencing heartburn you are unlikely to enjoy the diving itself.
Normally, you can find very little information about the food online. If you have some specific allergies or preferences, contact the boat in advance.
#5: Facilities for Socializing
A greatly enjoyable part of liveaboarding is the socializing that goes on at the end of day, usually over some drinks. There must be a convenient location that can facilitate all or a large chunk of the guests onboard for a comfortable place to gather.
There must be a good vibe, an adequate sound system and a quality bar tender who can carry a positive atmosphere throughout the trip.
Now you cannot actually get info about this online, but you can see the pictures of the facility. If the operator doesn't post much information or pictures, chances are they have something to hide.
#6: Charismatic Dive Guides & Instructors
Unlike with static dive shops, on a liveaboard you are spending a lot of time with your dive guide/instructor, under and above the water. The staff must therefore have some personality that will carry through this experience.
You cannot have staff who are not happy with what they are doing and just retreat to their rooms at the first opportunity.
Unfortunately, there isn't really a way to check this in advance, however if you are going by recommendations or reading reviews, keep an eye out for this.
The best facilities & diving in the world mixed in with unpleasant people will lead to an unpleasant trip.
#7: Hot Water
From experience, a hot shower is not something always delivered on liveaboards, often the water is lukewarm at best, which takes away from the much needed hot shower at the end of the day.
Especially needed when diving in colder temperatures.
#8: Spacious Dive Boat
The Dive Boat is a key component of the whole picture since all the diving itself happens of the dive boat – a spacious boat is a must. If you are doing 4 dives a day on a crowded little boat, overcrowded with other divers – it is unlikely that you will have a good time.
With a small boat equipment can get damaged or lost, accidents are more likely to happen and overall it can ruin your experience.
#9: Camera Table
This point only applies to photographers, but it really does apply to them heavily.
When you have a camera, with strobes and different lenses that you need to arrange before each dive, doing it in some improvized place is not the best idea.
You need a non slippery surface, with adequate lighting and a place where you can comfortably prepare your kit for the next dive, or leave it to dry.
A camera table is an absolute must for any serious liveaboard to have.
#10: Massage on Board
Ofcourse this is over the top, just a little bit – but a massage at the end of a long day of diving is a great experience. Realistically, this isn't particularly hard to arrange, one masseuse and a massage table are hardly a big expense, especially if he/she are assigned to other tasks when not massaging.
Some boats, like Orion and WAOW both facilitate massages onboard.
A great little touch (pun intended).
Conclusion
Whenever you read reviews of boats, or ask your friends about their experiences, ask about some of the less obvious factors that end up playing a massive role in your overall experience.
Hopefully the points above will give you an idea into the questions you should be asking either the operator directly, the agency which is managing your booking or the friends that have been on the potential boat you are planning to go with.
Further Reading
Featured Posts
Before going on a shark adventure, there are some things you need to know to make it a great experience for you and the sharks!

Lost your mojo? Get back into the water and re-awaken your lust for scuba diving! From discovering new dive sites to meeting new dive buddies, shake the dust off those fins and get wet again.

When the sun goes down the diving doesn't have to stop. Here are some tips on diving after dark and what you might see when some of the reef has gone to sleep.