Report
Thank you for helping us maintain a useful and accurate database of Dive Sites. Can you please tell us what's wrong:
Send
Cancel
Adjust location of Dive Site
Expand
DIVE SHOPS
LIVEABOARDS
DIVE SITES
Dive Site Last Edited by: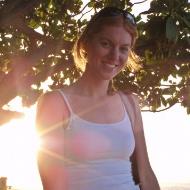 PADI Instructor Development Course (IDC) Staff Instructor
Advice for diving Blue Corner in Palau
Blue Corner is Palau's best known dive site. Divers "hook in" to the bottom at the edge of a drop off and hang in the often strong currents while watching an amazing show of sharks and other large marine life in the distance. Divers can see many different shark species including hammerheads, gray reef sharks, and white tips; as well as mantas, eagle rays, turtles, and there is often a large school of barracuda near the corner.
Most divers use a reef hook for this dive which is a metal hook that looks like a large fishing hook connected to a line that is then attached to the BCD. Some dive shops provide these and others have them for sale. Once at Blue Corner divers find a rock to hook into and they inflate their BCDs just slightly. This allows them to be attached to the bottom but slightly floating in the current (and not crashing into the bottom.)
The currents at Blue Corner vary throughout the day and throughout the moon cycle. Dive shops know the best times to dive it and get the most current. The more current there is, the more action that is usually seen although even when there isn't much current there is still a lot of action.
Once divers start getting low on air they deflate the extra air from their BCD and use the line to pull themselves down to the hook. After unhooking the current takes the divers on a drift dive down a beautiful channel with lots of coral and reef fish and eventually divers ascent to 15ft to do their safety stop and send up a safety sausage or marker before going to the surface where a boat will pick them up.
Besides the large animal action at the corner the dive site has abundant coral and fish life and plenty else to see. Large schools of reef fish are common on the top of the wall, there bottom has hard and soft corals, sponges and anemones with friendly napoleon wrasse regularly hanging around.
Blue Corner is about an hour boat ride from Koror and can be dived year round. When conditions are right sometime the dive starts at Blue hole, a large cavern in the wall, from which divers then drift dive to Blue Corner and then hook-in.
Because of the strong currents, drifting, and hooking in, Blue Corner will be best enjoyed by divers with some advanced diving experience.
Site Advice
Save
Save & Close
Close W/out Saving
Saving
We do not allow profanity to be used. Neither do we think it to be necessary in giving others advice on this dive site
Urls are not allowed
Dive Site Map
Advice on Diving in Palau
...boasts over 700 species of corals and 1300 species of fish, but the sharks are the number one attraction. Diving occurs all around the islands of Palau. Most dives are drift dives, which can range from a leisurely pace to ripping currents, and it's those currents that bring nutrients up from deeper waters to attract marine life of all sizes including schools of sharks, barracuda, turtles and other fish. Fields of healthy hard corals grow to spectacular heights, and the walls are covered in sea fans, soft corals, and sponges. There are also dives of intact WWII ships and airplanes, caves, an...
Read more
Read "Part 2: Dive Sites, Marine Life & Environment in Palau"
Read "Part 3: Dive Shops, Airports & Logistics of Diving in Palau"
The list reflects the locations visible in the map. Please zoom out
This dive site has not yet been reviewed.
Be the first?