Report
Thank you for helping us maintain a useful and accurate database of Dive Sites. Can you please tell us what's wrong:
Send
Cancel
Adjust location of Dive Site
Expand
DIVE SHOPS
LIVEABOARDS
DIVE SITES
Dive Site Registered by: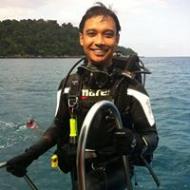 PADI Divemaster
Advice for diving Malang rock in Malaysia
Been diving at Malang rock?
Would you like to share your experience?
Environment:
Dive Type:

null

poii

Altitude Dive

nill

i64
Site Advice
Save
Save & Close
Close W/out Saving
Saving
We do not allow profanity to be used. Neither do we think it to be necessary in giving others advice on this dive site
Urls are not allowed
Dive Site Map
Advice on Diving in Malaysia
...e characterized as hot and humid, with a large amount of rainfall during the annual rainy seasons. The two distinct monsoon seasons are from April-October (in the southwest) and October-February (in the northeast). It is best to plan your vacation during the dry season for each area - visibility will generally be clearer; it can reach up to 60 meters on perfect days. Air temperatures range from 25-32 Celsius, depending on the time of year and geographical location. Water temperatures average between 26-30 Celsius. Underwater, divers are treated to a profusion of marine and coral species. Ma...
Read more
Read "Part 2: Dive Sites, Marine Life & Environment in Malaysia"
Read "Part 3: Dive Shops, Airports & Logistics of Diving in Malaysia"
The list reflects the locations visible in the map. Please zoom out
This dive site has not yet been reviewed.
Be the first?