Report
Thank you for helping us maintain a useful and accurate database of Dive Sites. Can you please tell us what's wrong:
Send
Cancel
Tilemachos' Cave Dive Site
Odos Skala - Poros, Skala 280 86, Greece
Adjust location of Dive Site
Expand
DIVE SHOPS
LIVEABOARDS
DIVE SITES
Dive Site Registered by: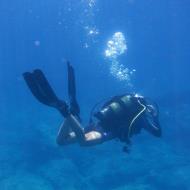 PADI EFR Instructor
Dive Site Last Edited by: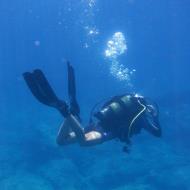 PADI EFR Instructor
Advice for diving Tilemachos' Cave in Greece
Out of the "Posidonia oceanica" seagrass meadows a lone reef raises, death trap to ancient vessels passing through the area. At least 2 of them, identified as from 3rd c BC and 5th c AD, found their final resting place here, scattering their ballast stones, great numbers of amphorae and pieces of ship wood with bronze nails and parts. Parts and pieces of yet unidentified pottery and various era anchors lay around, proving the area is a puzzle to seamen through the ages. Various fish and quite often Loggerhead sea turtles are frequent visitors to the site.
The main body of the reef holds a small yet impressive underwater cave, with two openings and a hole in the roof, letting ample light into the interior and rewarding the daring divers with spectacular views.
As an off shore dive, boat and dive site should be marked well with dive flag/buoy, due to small boats marine traffic in summer months.
The average depth or the dive is 7 m, while the max is 12 m, for divers of all levels. The usual visibility is 25 m and temperature ranges between 22-27 C in summer months. Occasionally there might be weak currents.
Site Advice
Save
Save & Close
Close W/out Saving
Saving
We do not allow profanity to be used. Neither do we think it to be necessary in giving others advice on this dive site
Urls are not allowed
Dive Site Map
Advice on Diving in Greece
...quering Persia, Minoa, and Mycenae along the way. These days, there may not be maritime battles of Herculean proportions waging when you visit, but the seas are still very much a focal point for travelling divers and snorkelers. The craggy outline of mainland Greece juts out into a smattering of small islands that wend their way through the Ionian, Aegean and Mediterranean Seas. Popular as tourist holiday hotspots, the islands are also a mecca for scuba divers, with plenty of dive sites to choose from suitable for all ages and abilities. While the warm weather of the Mediterranean climate has...
Read more
Read "Part 2: Dive Sites, Marine Life & Environment in Greece"
Read "Part 3: Dive Shops, Airports & Logistics of Diving in Greece"
The list reflects the locations visible in the map. Please zoom out
This dive site has not yet been reviewed.
Be the first?