Report
Thank you for helping us maintain a useful and accurate database of Dive Sites. Can you please tell us what's wrong:
Send
Cancel
Unnamed Road, Kefalonia 280 86, Greece
Adjust location of Dive Site
Expand
DIVE SHOPS
LIVEABOARDS
DIVE SITES
Dive Site Registered by:
PADI Divemaster
Dive Site Last Edited by: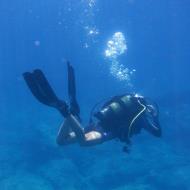 PADI EFR Instructor
Advice for diving HMS Perseus in Greece
Perhaps the top WW II wreck dive in Mediterranean, British Overseas Patrol submarine HMS/M Perseus, (N36) lies virtually intact on the sandy bottom, at 52 meters depth, about a mile off the south coast of Kefalonia. Perseus submarine is not only among the most impressive wreck dives a diver can experience, but has an amazing history as well. The vessel was on combat patrol in December 1941, and while cruising at the surface at night hit an Italian naval mine and sunk. From the crew of 59 only one, the Royal Navy leading stoker John Capes managed a daredevil escape from a depth no one has attempted before, swam his way to Katelios and with the aid of locals escaped capture from Italian and German occupation forces and finally transferred in Turkey. While legendary in Royal Navy, almost nobody believed his adventure until in 1997 a team of Greek divers located the submarine and verified details of his described escape.
The submarine lies a couple of miles off shore Kefalonia. Dive boat should lay down a diving line and be ready to recover divers in case they drift during ascent. The dive line is also useful for deco stops at ascent and spare air cylinders hanging are recommended.
The divers approaching the submarine encounter a magnificent vessel 88 meters long, with a large conning tower, the ship's gun and the rear hutch still open indicating the escape route of John Capes, while a look in the interior is possible. Among other things, the torpedo tubes and the ship's propellers and rudder are visible.
The submarine is practically an artificial reef and colorful sponges, small fish and aquatic creatures take shelter here, while predators like amberjacks and snappers are frequent visitors.
The average depth or the dive is 40 m, while the max is 50, reserving the submarine for experienced and technical divers. The visibility is usually greater than 25m while temperature ranges between 18-24 C in summer months, depending on depth.
There are usually mild to considerable currents above 15m.
Site Advice
Save
Save & Close
Close W/out Saving
Saving
We do not allow profanity to be used. Neither do we think it to be necessary in giving others advice on this dive site
Urls are not allowed
Dive Site Map
Advice on Diving in Greece
...he Mediterranean climate has allowed interesting marine life to develop around these waters, many of the sites also hold specific cultural interest that is fascinating to divers. Dive shops and sites are located all over the islands, and each chain offers something a little different. Santorini, one of the Cyclades Islands, lies in the Aegean Sea and is home to a large number of dive sites off its shores, including House Reef, Mansell and Old Volcano, three locations that range from an easy beach reef dive, to a 200ft wall. Further south, the island of Crete touches the Mediterranean, and div...
Read more
Read "Part 2: Dive Sites, Marine Life & Environment in Greece"
Read "Part 3: Dive Shops, Airports & Logistics of Diving in Greece"
The list reflects the locations visible in the map. Please zoom out
This dive site has not yet been reviewed.
Be the first?