Report
Thank you for helping us maintain a useful and accurate database of Dive Sites. Can you please tell us what's wrong:
Send
Cancel
Odos Skala - Poros, Kefalonia 280 86, Greece
Adjust location of Dive Site
Expand
DIVE SHOPS
LIVEABOARDS
DIVE SITES
Dive Site Registered by: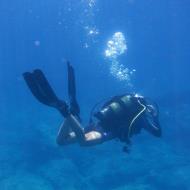 PADI EFR Instructor
Dive Site Last Edited by: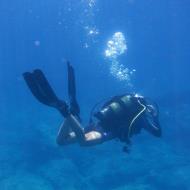 PADI EFR Instructor
Advice for diving Capros Cape in Greece
Capros cape marks the northern tip of Skala coastline area, and just around it one is at the doorstep of Kefalonia-Ithaca channel. The water movement and the occasional currents around the cape is as intriguing, and create a habitat for huge noble pen shells, nudibranch species on the bottom, whilst schools of bogues, picarels and damselfish feed against the current, just above the noticeable thermocline and attract predators like red snappers and jacks. The cape has probably a turbulent past, as vessel parts, pieces of yet unidentified pottery and various era anchors lay around it.
The average depth or the dive is 12 m, while the max is 26 m, for divers of all levels. The usual visibility is 25 m and temperature ranges between 19-25 C in summer months. Occasionally there might be medium currents, but divers should be aware as the direction is from the bay towards open sea.
Site Advice
Save
Save & Close
Close W/out Saving
Saving
We do not allow profanity to be used. Neither do we think it to be necessary in giving others advice on this dive site
Urls are not allowed
Dive Site Map
Advice on Diving in Greece
...ing divers and snorkelers. The craggy outline of mainland Greece juts out into a smattering of small islands that wend their way through the Ionian, Aegean and Mediterranean Seas. Popular as tourist holiday hotspots, the islands are also a mecca for scuba divers, with plenty of dive sites to choose from suitable for all ages and abilities. While the warm weather of the Mediterranean climate has allowed interesting marine life to develop around these waters, many of the sites also hold specific cultural interest that is fascinating to divers. Dive shops and sites are located all over the isla...
Read more
Read "Part 2: Dive Sites, Marine Life & Environment in Greece"
Read "Part 3: Dive Shops, Airports & Logistics of Diving in Greece"
The list reflects the locations visible in the map. Please zoom out
This dive site has not yet been reviewed.
Be the first?