Going Abstract

Shapes, patterns, textures, color variations, and tonal variations, several characteristics of abstract photography can come together in one single image.

Against the "Rules"

What are you looking at here, a fish from behind? Wrong. There's no eye to see and therefore the image is not in focus? Wrong. Most of the fish is blurry? Wrong. Well, the object is secondary in abstract photography... and who told you that this is a fish?

Under The Bridge

A jetty as seen from below a small wave. A unique angle is often a distinctive mark of abstract photography.

Spinning Coral

A spin shot of a fire coral. Motion blurs and strong color tones work well for abstract underwater photography.

Just Bubbles

Blue water with some tonal variations and a few bubbles work great as a first step into abstract underwater photography. This shot was made with a 4MP point & shoot compact camera.
1
Abstract Underwater Photography
Abstract is denoting art characterized by geometric, formalized, or otherwise nonrepresentational qualities. Abstract photography concentrates on shape, form, color, pattern, and texture. It is, in a way, about introducing the viewer to the essence of an object.
Abstract photography is not about understanding and recognizing the subject of the shot; it is more about helping the viewers gain an emotional input by enjoying the image.
In abstract photography, the subject is secondary. Here are some examples of what's primary:
Patterns
Textures
Color variations
Tonal variations
Curves, Shapes & Geometry
Blur
Angles
Focus and Depth of Field
Think of those factors that make a photograph an abstract one, and then think of the underwater world that we like to visit with our cameras; we can now agree that there is a lot of really cool potential for shooting abstract underwater images!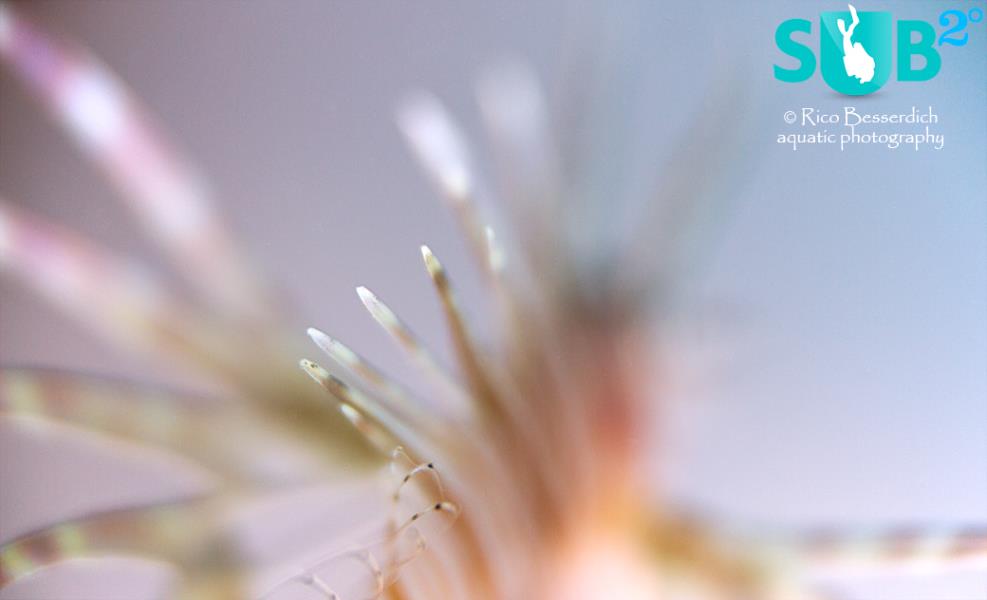 A photo dive with the aim of bringing some interesting abstract shots back home requires a different way of seeing things during that dive. It also requires forgetting about (for the moment) some 'rules' of classic UW photography.
I need to add that when it comes to abstract photography there is simply no "middle ground"; some people love it, and some hate it. It's simply a question of personal taste and preference.
The attempt to open senses and eyes for abstract images sharpens the photographic eye and stimulates our creative senses. Suddenly, very common or even 'boring' subjects offer a new photographic potential. We'd only require the eyes to see it, and the vision of the final image.
Time for a warm up!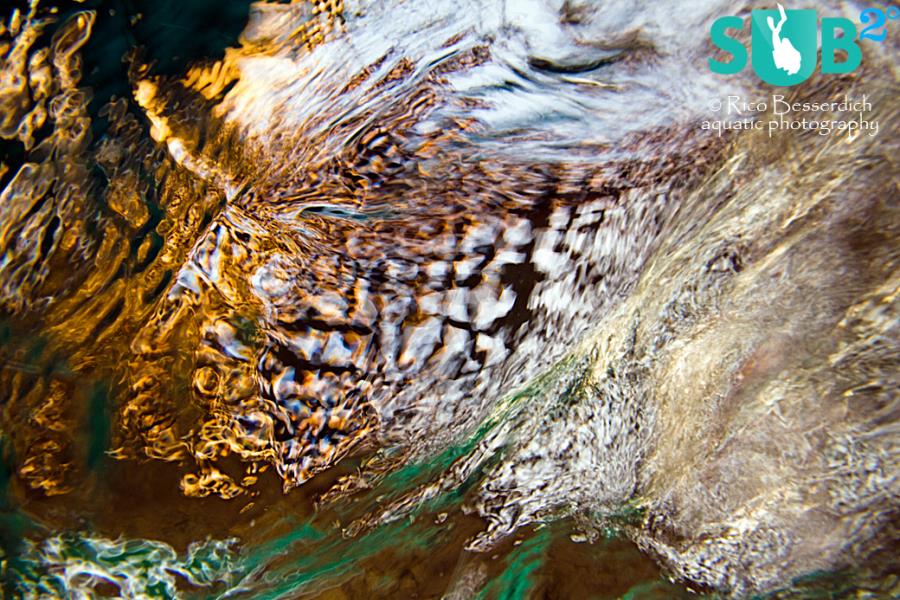 Good news first, almost any camera can do it. Compact cameras, D-SLRs, mirror-less cameras are all generally suitable for abstract photography. Same for lenses: prime lenses (with fixed focal length), zoom lenses, wide-angle, fisheye or macro lenses, they all work :-)
So, let's hop in the pool of creative opportunities. There are masses of them, so I'll just list a few examples here:
Patterns
Any kind of decorative motifs such as color patterns of fishes, corals, sunray reflections on the sandy seabed, or even different blue-tones in open water.
Textures
Anything that gives the feel of 'touching it' such as rough metal of wrecks, stones & rocks, skin details of a shark, surface of a jellyfish, or fish scales.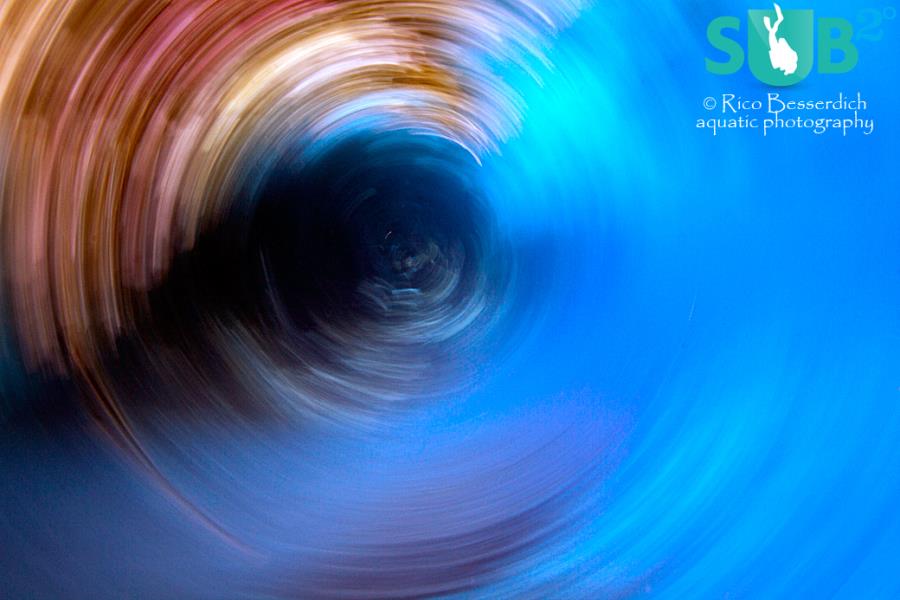 Color Variations
Anything that comes with at least 2 colors could work. The "abstract" here comes from the interplay of colors. All blue and red tones work fabulously here; green and yellow tones can work as well, as long as they are bright and not dark.
Tonal Variations
Variations of color tones (different tones of the same color) and also black & white elements have great "abstract potential". Tones of blue (or green) water, the interplay of light, or shadows at wrecks are good to start with.
Curves, Shape & Geometry
In simple words, it's about how things/subjects are formed or shaped. Corals, fish fins, special underwater landscapes, wrecks (in total or only parts of them) and silhouettes of all kind... as long as they look interesting.
Blur
No sharpness, intentionally! Motion blur, Bokeh, Panning, Spinning or Zooming are lots of ways to create an abstract shot based on, or working with, blur. This works with almost anything you can find underwater!
Angles
Unique or even uncommon angle of views can create interesting abstract photographs. 100% permission to break "classic" rules granted! From below, behind, or even diagonal... just as you like it ;-)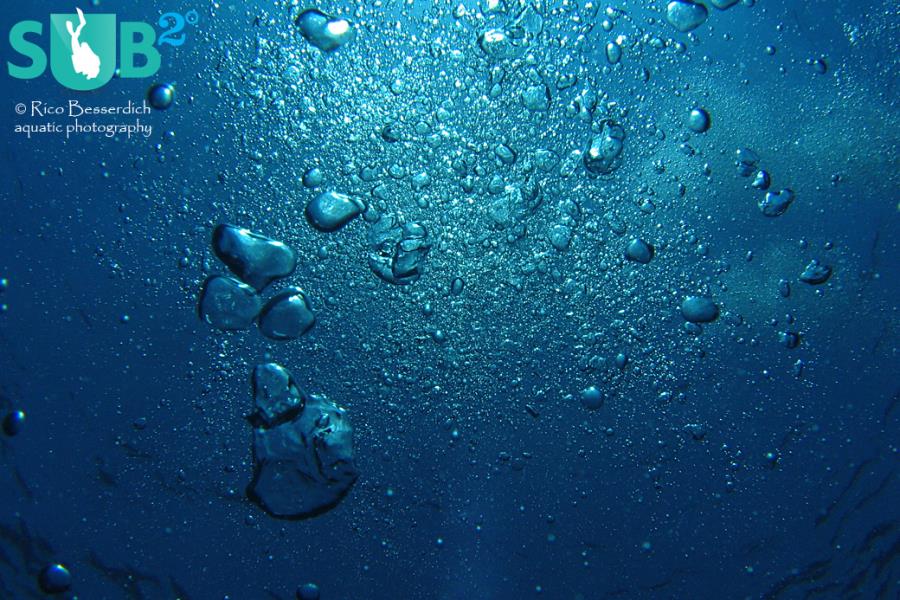 Focus & Depth of field
To set the focus at unusual points of the subject can create interesting abstract shots. Using the depth of field for abstract photography is a small science itself, the most known style/technique here is Bokeh.
Give it a try, and shoot your macro subject with f/2.8 to 4.5 instead of the classic f/11 to f/16 that is widely used for macro photography. A totally different, maybe even abstract, image would be the result. Once again, be brave. Break the rules from time to time.
Please note, that the line between a good abstract photograph and a totally useless one is quite thin. It could become tricky to claim an unsuccessful photo (blurry, not in focus, nothing to see on it etc.) as 'abstract art'.
The difference here is that the successful abstract photographer knows exactly what he/she is doing. Exposure, shapes, colors, structure, angle of view, and focus happen by intent, not coincidence (except some lucky snapshots, of course).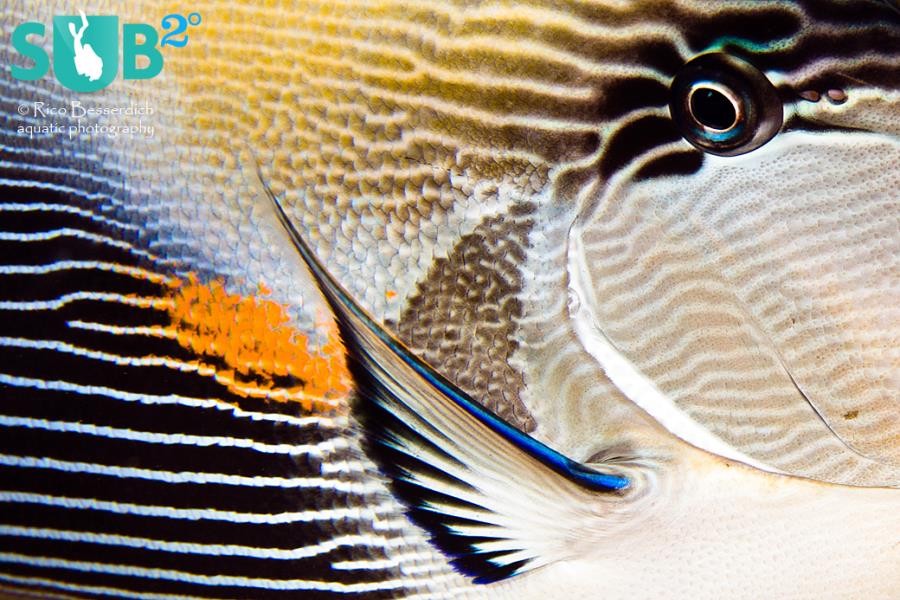 Is abstract photography viewed as contemporary art, fine art, or as no art at all? This doesn't really matter so much. What matters is to open our eyes to new visions and ideas of photography, and always stay open and tolerant to something different. It is important here - as always- to enjoy taking images underwater and to like your photos, even the abstract ones ;-)
Happy shootings, happy bubbles, and always be safe!
---
Further Reading
All Other Articles By Rico Besserdich
Overview of Scuba Diving in Egypt
Tips to Save Money While on Your Cairo Holiday
Schnorcheln Hurghada / Giftun Insel
Featured Posts
Before going on a shark adventure, there are some things you need to know to make it a great experience for you and the sharks!

Lost your mojo? Get back into the water and re-awaken your lust for scuba diving! From discovering new dive sites to meeting new dive buddies, shake the dust off those fins and get wet again.

When the sun goes down the diving doesn't have to stop. Here are some tips on diving after dark and what you might see when some of the reef has gone to sleep.