Great White Shark

With its mouth wide open, this great white shark smiles for the camera.

The Cage

A great white shark comes very close to the cage.

Great White Shark

A great white shark comes in close.

Great White Shark

Great white sharks can grow up to 20ft long and weigh up to 5000 pounds. This one was about 13ft and swam right up to the cage.
1
Great White Shark Cage Diving - South Africa
All eyes were on the dark blue water looking for the ocean's most feared animal – the great white shark. The captain yelled, "To the right!" and our eyes followed the long, cylindrical shadow as it moved upward in the water and then seemed to transform into the sleek, muscular body of a 14ft great white shark.
With our masks on, we got into the small metal cage one by one. The chill of the 62-degree water heightened our senses, as if the adrenaline hadn't done enough already. And then we waited.
Inside the Cage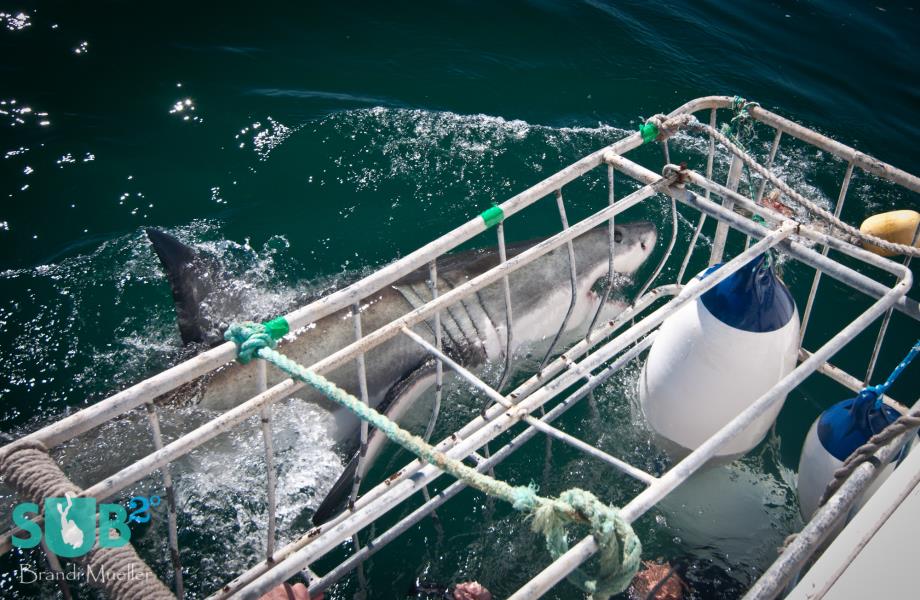 Visibility was only about ten feet, making the mood slightly more sinister as we peered through the bars. The cage floated on the surface and was connected to the side of the boat. Inside the cage we could hear the people on the boat when they saw the sharks, but none had come close enough to the cage for us to see them yet.
Inside the cage, we were all silent, and suddenly we heard the captain yell, "Down to your right," and there was the huge shadow coming towards us. As it got closer we could see its full body, grey on top and white on its underside and a huge black eye looking right at us as it passed right in front of the cage. It was close enough to stick a hand out and touch it (although we didn't).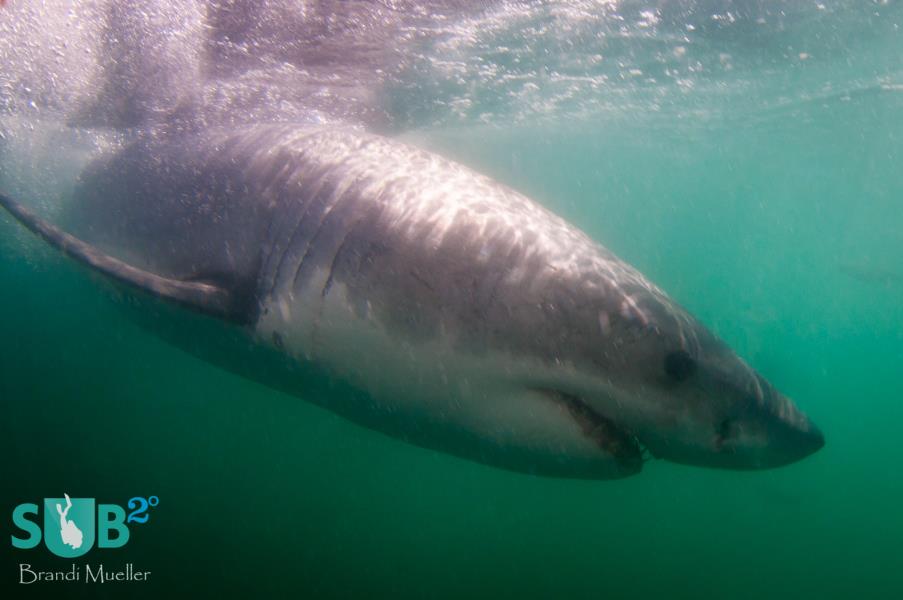 The shark was longer than the cage (which fit six people). After it passed out of view, all six of us in the cage must have collectively exhaled the breath we were holding, and a few screams and cheers erupted.
"Oh my God" and "Did you see that?" What impressed me most was the sheer scale of these sharks. Females are often 15-16ft long and can weight 3000+ pounds. Their midsections are just massive and the even the height of the fin and tail just seemed huge.
Our boat was chumming for the sharks using a deliciously smelly concoction of crushed tuna or sardines, a few fish heads, and a fake seal decoy to try and bring the sharks close to the cage. One shark followed the fish heads right up to the cage with its mouth wide open showing us rows and rows of perfectly pointed, sharp, white teeth. In total we had three different sharks passing by us several times before our 30 minutes in the cage were up.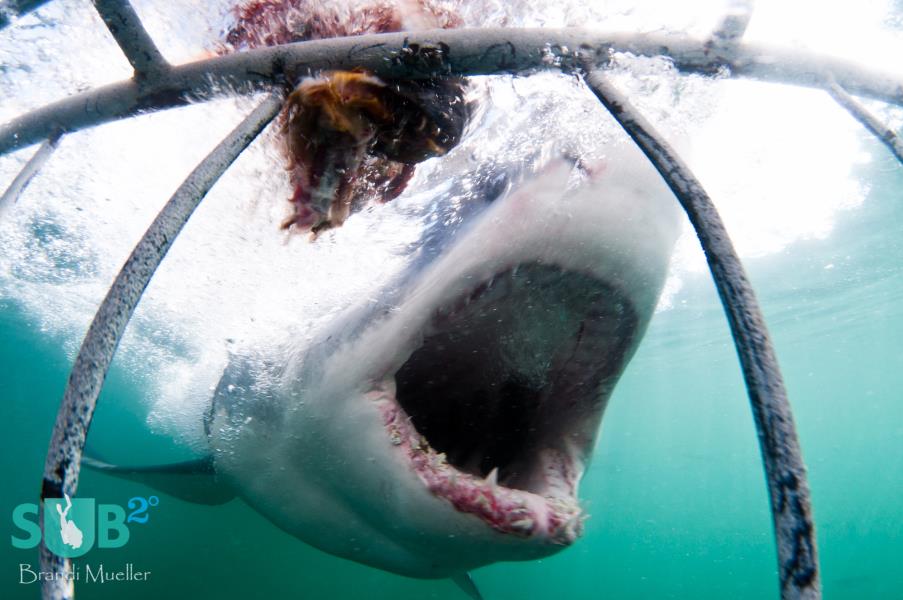 Out of the cage and back on the boat, the action was almost as good as in the water. Watching from the surface allowed us to see the sharks from a greater distance as they approached the boat and it really put into perspective just how big they were. It was awesome to see this amazing shark so close in real life.
The Great White Shark
Great white sharks (Carcharodon carcharias) can grow up to 20ft long and weight up to 5000 pounds, although most range from 12-15ft with the females being larger. Found in most coastal and offshore waters, they eat seals, sea lions, other sharks, turtles, seabirds, and fish. Great whites are considered a vulnerable species and are threatened by shark finning and environmental change.
Great whites have the reputation of causing the most shark attacks on humans (although the likelihood of being struck by lightning is more likely than being attacked by a shark). However, most bites from great white sharks are accidental or "test-bites." Surfers or swimmers easily resemble seals from below (a great white shark favorite) and most attacks are just one bite and then the shark leaves, because humans are not part of their diet.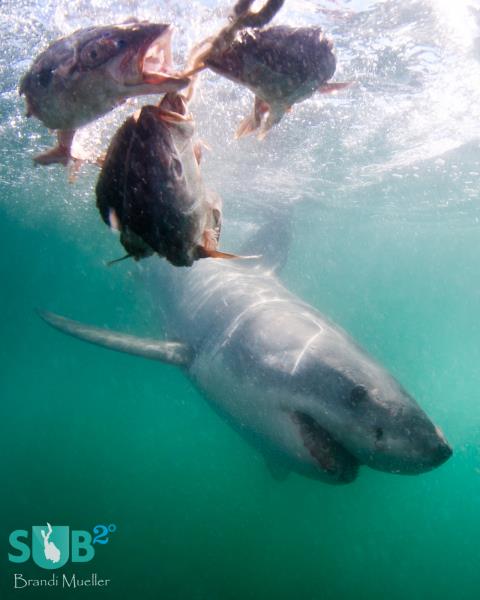 Where
In South Africa, cage diving is offered in several towns along the south west coast of the country including Gansbaai, Simon's Town, and Mossel Bay. The most popular area is Gansbaai where multiple boats go out several times a day and the sharks are present year round because of the seal population at Dyer Island. Cage diving with great whites also occurs in Southern Australia and off the Baja peninsula of Mexico.
---
Further Reading
No Cage - Diving with Tiger Sharks off South Africa
Overview of Scuba Diving in South Africa
Directory of Dive Shopes in South Africa
Directory of Dive Sites in South Africa
Guaranteed sharks – Aquarium Diving
Featured Posts
Have you ever spotted a cuttlefish? Here's some information about this interesting sea creature.

The Mediterranean Sea, especially Minorca, is not as widely known as other dive destinations. My experiences in this beautiful underwater world have shown me how unfortunate that is.

A country of incredible natural beauty, diving in Norway is something to add to your list of things to do here on your vacation. Norway diving offers a wide variety of diving options that include thrilling drift dives, wreck...