The Underwater Moai of Easter Island

Easter Island is home to the mysterious moai - human-like carved statues. Divers can visit one underwater.

Eel in Coral

A moray eel sneaks through healthy hard coral formations off the coast of Easter Island.

Ahu Tongoriki

The fifteen moai of Ahu Tongoriki have been restored on the coastline of Easter Island.

Schooling Fish

A small school of fish swam over us in the crystal clear water.
2
Diving Easter Island
Mysterious Easter Island
Mystery surrounds Easter Island, also known as Rapa Nui. Over 2,000 miles off the coast of Chile, this isolated island was first found by Polynesian explorers sometime between 700-1100 BC. It is best known for its huge human-like carved stone statues called moai.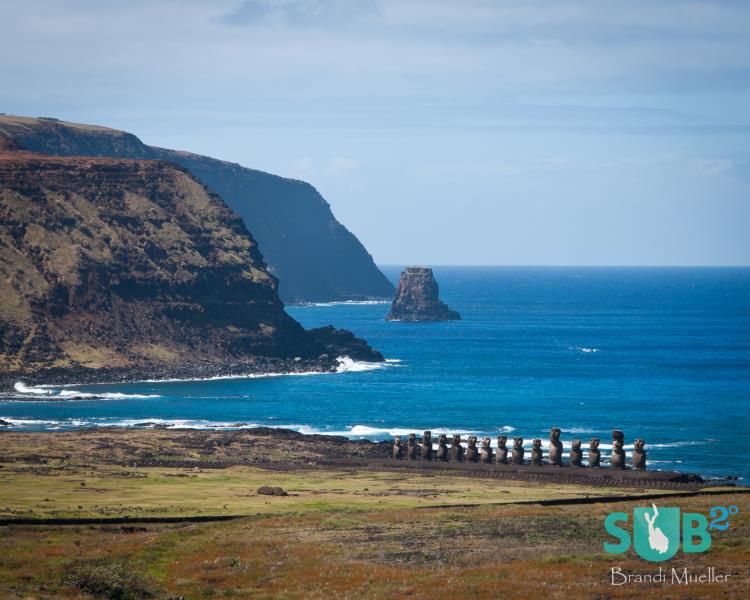 The moai have fascinated historians and travelers since they were first seen by explores such as Captain James Cook in the 1700s, but the purpose they served and how they were carved and transported around the island is still unknown.
What's so cool about the moai anyway? The average moai stood about 13ft (4m) high and weighed around 13 tons. They were carved from a quarry on the center of the island and then mostly were moved to the coast and placed on Ahu (alters or platforms).
Myths talked of how the moai "walked" from the quarry to their final destinations and recently researchers showed they could have been transported in a standing position using people tugging on ropes from side to side, essentially making them "walk." All but one Ahu have the moai with their backs to the ocean, facing inwards to the island.
It's thought the moai were representatives of ancestral chefs who, after death, would protect and watch over the people of Rapa Nui. Ahu Akivi is located away from the ocean and has seven moai facing towards the ocean to the northwest. These ancestors are thought to be the seven voyagers who first found Rapa Nui. They look towards the Marquesas, possibly where they came from, 2000 miles away.
Calling Rapa Nui an island of mystery is not an understatement. How did the seafaring Polynesians find this small island (only 15 miles by 7 miles wide) in the middle of the Pacific Ocean?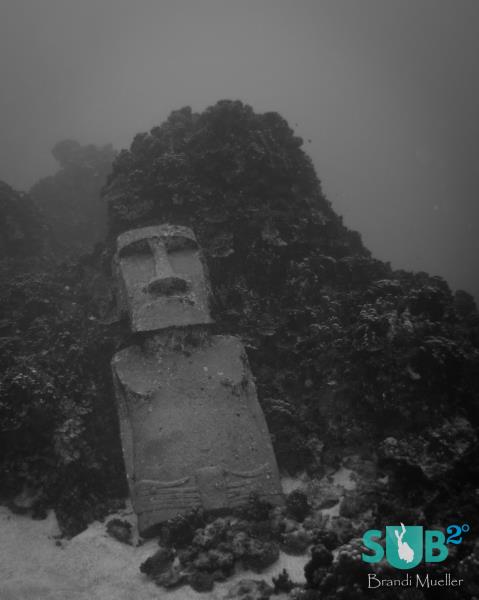 What made them decide to use a huge amount of manpower and resources to carve enormous human-like statues out of stone and transport them to the coasts? Why did they decide to topple and destroy all the moai just a couple hundred years later, which must have taken much to create? And, most importantly, how did one end up underwater?
The Diving
That's right. There is a moai underwater. And that's not all that awaits a diver beneath the dark blue waters that surround Easter Island. The volcanic island has created awesome underwater structures including caves, caverns, and arches to swim though. The rocky bottom has abundant hard coral and the water is crystal clear.
Because Easter Island has no major rivers, very little development, and a small human population, there has been very little run-off or pollution entering the water. The cooler waters also have low plankton making the water uncommonly clear, usually 200ft+.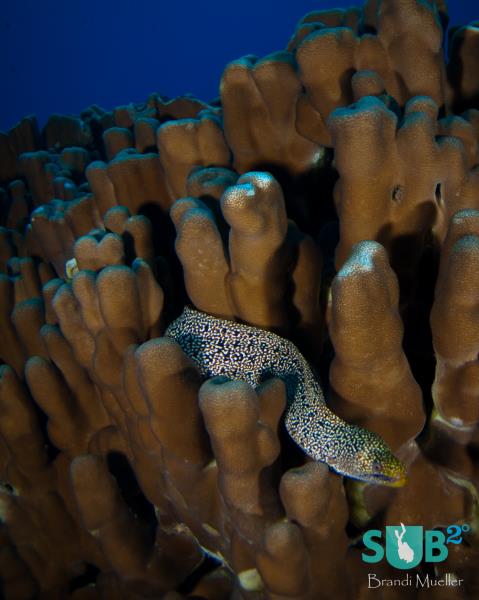 Always being fascinated with Easter Island, I was finally able to make the long journey and my scuba gear came along. My first stop was Mike Rapu's Diving Center in Hanga Roa, the only small town on Easter Island. I think my first words were, "Take me to the underwater moai" and I was loading my gear into a boat just a few hours later.
After a short boat ride out of the harbor, we back-rolled off the small boat and descended into gin-clear water. The water was around 65F (18C) in the middle of the Southern hemisphere's winter and we could easily see 150ft+. Below me were tall coral formations and plenty of fish swimming around.
My mind was on the moai though. My dive guide led me forward, pointing out a few eels and some larger fish. As we turned past some large boulders there it was – a perfect moai. I laughed a bit; this obviously was not an original moai. The white concrete interpretation rested upright at least 10ft tall, leaning against some rocks.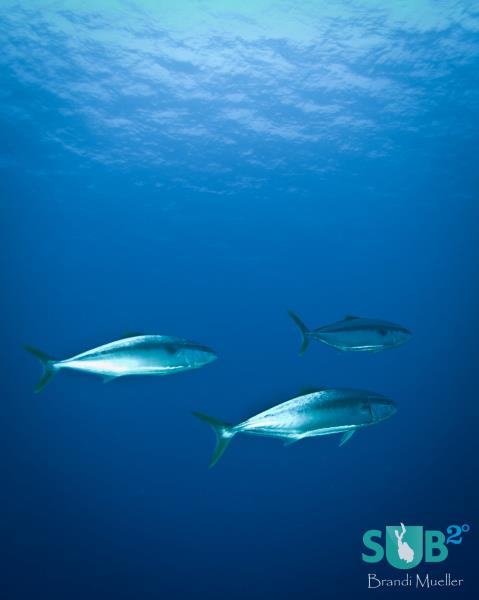 Back on the boat I asked the dive guide, 'who decided to put a fake moai down there?' In all seriousness he told me it is a real moai, created by the people of Rapa Nui – but they were the Rapa Nui people of today, not the ancients. I guess he was right.
Even beyond the underwater moai, the diving was spectacular. I found clear water on each dive and the volcanic rock arches and swim-throughs were a lot of fun. It's not a hugely popular dive location though. The water is a bit chillier than some of the other island of the South Pacific, 18-26C depending on the season.
Overall the fish diversity of Easter Island is small given its isolation, but the isolation has led to over 26% of the fish life being endemic, or only found in the water surrounding Easter Island. Lots of colorful reef fish dot the reefs and eels are abundant. There is plenty to see, and anyone making the trip to Easter Island shouldn't pass up the amazing diving on this equally amazing island.
---
Further Reading
Overview of Scuba Diving in Chile
Directory of Dive Sites in Chile
Featured Posts
Literally diving in an aquarium, Lake Malawi contains aquarists' favorite freshwater tank fish. Many love the beautifully colored cichlids, but few dive this beautiful lake in South Eastern Africa.

The northern part of Croatian coast is really an amazing place for summer vacation. If you plan to go there, take my advice and head for a stunning diving experience. There are a lot of fine diving sites; here will be mentio...

Raja Ampat in Indonesia, has always held a lot of fascination for me. Customers on their way there, or just back, were awestruck by the area. "Best in the diving in the world!" they'd say, but having dove for many years, I'v...