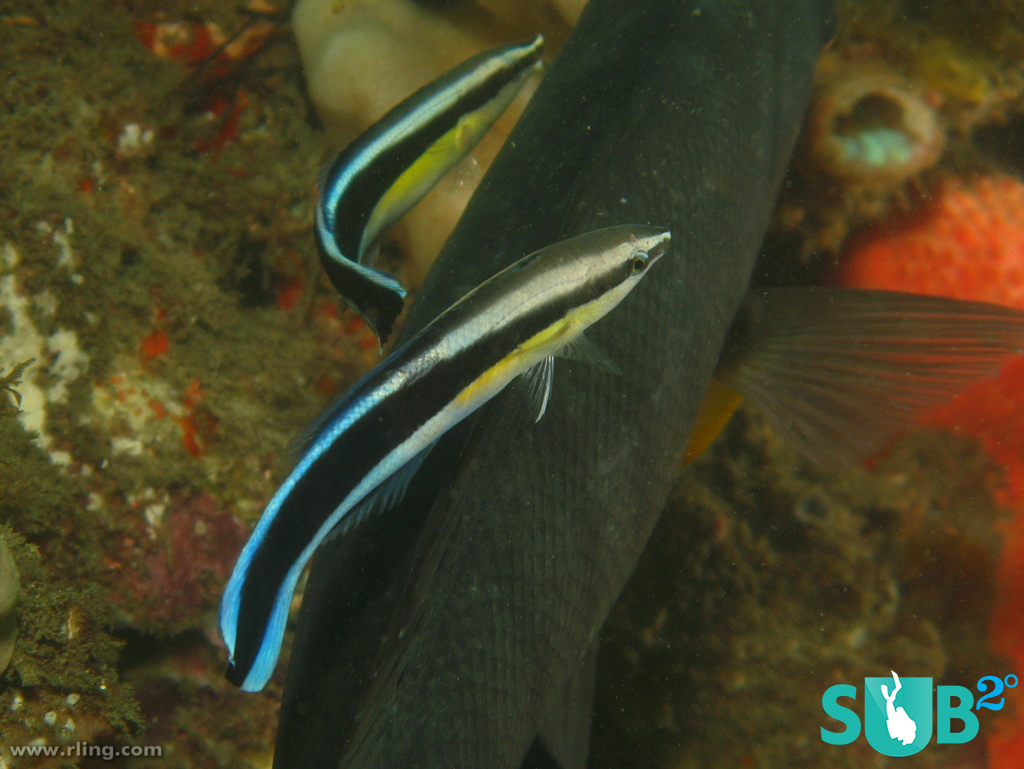 Published Sep. 30,
2014
0
Cleaner Wrasse
Coral reefs are expansive galleries of all the various survival strategies animals have developed in the constant struggle of eat or be eaten. Elaborate camouflage makes some animals almost invisible. Narrow, streamlined bodies and powerful fins allow some fish to dart off at the slightest hint of danger. A few species, however, have taken a more entrepreneurial approach to life on the reef. The little, industrious fish of the genus Labroides are collectively known as cleaner wrasse.
The most widespread and well-known species is the bluestreak cleaner wrasse (Labroides dimidiatus). Rather than hide or run away from larger fish, the cleaner wrasse actually welcomes these fearsome predators and takes advantage of an amazing mutualistic relationship.
Pairs or small groups of cleaner wrasse set up stations on the reef, where larger fish can come for a thorough cleaning. Somewhere between a carwash and a spa, these cleaning stations rid the large fish of parasites and provide the little cleaner wrasse with an easy meal. That deal is sweetened even further for the cleaner wrasse by the fact that potential predators are deterred by the presence of the big, intimidating fish being cleaned.
This relationship is so intimate and trusting that cleaner wrasse even swim into their clients' open mouths to clean their teeth. Such a powerful bond between species is not without its ceremonies. When a big fish arrives to be cleaned, the cleaner wrasse does a special sort of dance, flicking the back half of its body up and down. Juveniles have even been known to display this behavior towards approaching divers.
There are five species of cleaner wrasse, with variations in coloration, but they all have similar body shapes and livelihoods. The bluestreak cleaner wrasse lives in coral-rich reefs from the Red Sea and East Africa to the South Pacific and up to Japan. This species is easily recognized by the dark stripe that runs from its mouth, through its eye, all the way to the tip of its tail. The "bluestreak" refers to the bright electric blue lines on top and bottom of its rear half.
Cleaner wrasse represent a fascinating and beautiful example of interspecies cooperation, so if you get the chance to see one of these dermatologist/dentist fish at work, don't pass it up.
Featured Posts
Nudibranchs, nudibranchs, nudibranchs. They get all the glory. But what about the flatworms? Often confused for nudibranchs, these guys hold their own as some of the prettiest (and weirdest) ocean creatures.

It's not every day that you find yourself underwater with a crocodile. Yes, I was warned there might be a juvenile croc in the cenote, and that he was diver friendly, but nothing quite gets the heart pumping like finding yo...

Killer Whales are not only one of the fastest animals in the ocean, but their complex hunting strategies and unique abilities to learn, memorize and implement teamwork has made them a force to be reckoned with throughout the...